GFRC's prefabricated panels are parts resulting from a mixture of a cement-based mortar and aggregates, reinforced with alkali-resistant fiberglass.
Its structural reinforcement is an external frame and has the attribute of being anchored.
Our plant capacity is 280 m² per week.
Our mounting capacity is 350 m2 per week.
The excellence of our designs and manufacturing has been recognized by construction companies, architects and real estate developers in Mexico and Central America, where our advice and products adapt to the specific requirements of each environment and project.
GFRC facade
Customizable designs adapted to your project.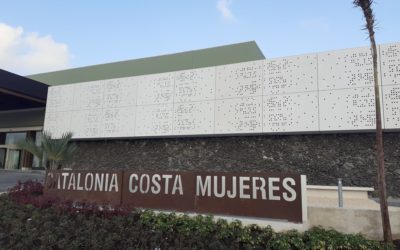 Hotel Catalonia Costa Mujeres.Hotel de más de 400 habitaciones. Participamos con: Adoquín: 3,500 m². Fachada en GFRC: 2,200 m². Luminarias color gris: 25 piezas. Celosía trébol: 100 m². Celosía de circulación: 55 m². Banca curva: 1 pieza. Peldaños color antracita y...
read more
Grand Palladium Costa Mujeres Resort & Spa.Hotel of 670 suites. We participated with: Chapel, GFRC facade: 1,150 m². Spa, lattice 1,300 m. Chic, lattice: 160 m². Convention center, lattice: 145 m² Umbrellas: 102 units. Donut-benches: 24 units. Ovoid stone: 12...
read more
Tell us your idea and we will contact you as soon as possible.